By Shannon Carlin
The Park Slope United Methodist Church's (PSUMC) Creed states: "Hand in hand, we the people of the Park Slope United Methodist Church – black and white, straight and gay, old and young, rich and poor . . . we commit ourselves to the humanization of urban life and to physical and spiritual growth." A discriminatory addition to the religion's Book of Discipline, though, threatened the church's emphasis on inclusion.
In 1996, the General Conference of the National United Methodist Church added Paragraph 332.6 to the Book of Discipline. It stated, "Ceremonies that celebrate homosexual unions shall not be conducted in our churches."
"The congregation was looking to make a statement," Park Slope Pastor, Herb Miller said. "Something to show a strong solidarity."
Members of the Park Slope community are known for being liberal and progressive. Residents of the area explore a variety of family structures and stay politically active. Miller explained that everyone was in favor of doing something, but what could they do?
Many wanted to shun the Church rules by going ahead and performing marriages and holy unions for anyone and everyone. Others chose an alternative: stop performing marriages and holy unions all together.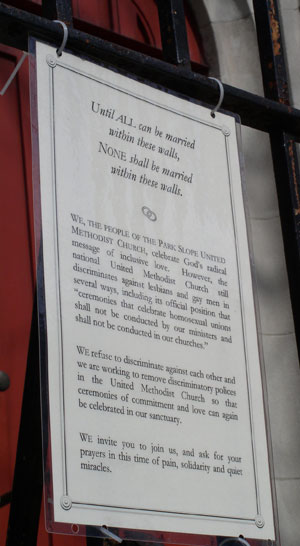 After a Congregational vote in 2001, the Park Slope parishioners agreed to a new policy on weddings and holy unions. "Until all can be married within our church walls, none shall be married within our church walls."
The policy established an explicit non-discrimination policy, celebrating holy unions and legal weddings under equal guidelines. Vows for all covenant services, including legal weddings, for all couples in the church community would be performed in places other than in the church. The pastor would no longer conduct legal marriages or holy union ceremonies.
The PSUMC has established itself as an "inclusive Christian" community where many different kinds of "human relationships are celebrated." Although some people are at first surprised by the Church's bold decision, most appreciate and support the stand that they have taken.
"Gay couples (in the church) are hurt by the fact that they are not allowed to celebrate in the church," Miller said, "But so are heterosexuals who see friends and family struggle with this." The policy shows that everyone is affected by the Church's decision. It sends the message that discrimination against anyone will not be tolerated.
A handful of churches, in Chicago, Minneapolis, Nashville and Sacramento, have also stopped performing weddings. In a 2006 article Pastor Don Portwood of the Lyndale United Church of Christ in Minneapolis explained that he would no longer sign marriage licenses. "Opposite gender couples will have to go to the judge at City Hall and have them signed."
The White Bear Unitarian Universalist Church, also in Minneapolis, stopped signing marriage licenses in 2003. The 120-year-old church voted unanimously to stop performing marriages on the church grounds. "We are no longer going to discriminate against same gender couples," Reverend Victoria Safford of the church said. "What we have found is that the members of our congregation have supported the decision wholeheartedly."
The new marriage policy is an important step towards change. The PSUMC took this stance to support all its parishioners. But they have also reached beyond their pews and established a Reconciling Committee, a national movement of Lesbian, Gay, Bisexual and Transgendered members looking to change church policy. The Reconciling Committee celebrates the gifts of all persons regardless of sexual orientation or gender identity. PSUMC embraces a "wide table" approach that makes room for all who want to join the community. This motion could finally make good on the Methodist motto of "open hearts, open minds, open doors."
Miller believes the policy will eventually change, but knows it will be a difficult process. The National Committee who makes the decisions does not meet every year. "If nothing passes at that time, we must wait another 4 years [till] we meet again," Miller said. "But we're in it for the long haul."
---
Shannon Carlin is an aspiring journalist and graduating senior at St. Joseph's College on Long Island.